Apps
Special
Crisper
Entrée
Rice
Dessert

A thin strip of potato, cut 34 inches in length & 1/4 inches square, that are deep fried until they are golden brown and crisp.
Sweet Potato Fries
$11.95
Sweet potatoes reduce oxidative stress, promotes good gut health, are rich in beta carotene (converts to vitamin A), and have good amounts of vitamin C.
Crispy corn tortilla chips with homemade guacamole & salsa.
Jalapeño Poppers 🌶️
$12.95
Jalapeño stuffed with cream cheese & side of savory dipping sauce.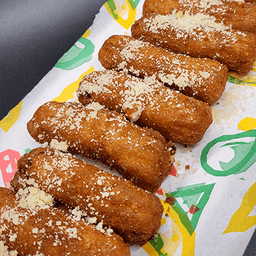 Mozzarella Cheese Sticks
$12.95
Coated in seasoned breadcrumbs, then deep fried until golden brown & crispy.
Potato
Seafood Kimchi 🌶️
Seafood Scallion
Pan-fried battered eggs & flour with filling of your choice.
Smoked Salmon Salad
$12.95
Smoked salmon tossed in greens with a balsamic glaze.

Kimch-eese Fries 🌶️
$14.95
Korean-style dirty fries with kimchi & cheese.
Bacon, corn, and cheese fired on a hot plate & torched to finish.
Korean-style crispy squid with homemade spicy dipping sauce.
Cocktail
Tower
Beer
Soju
Wine
Stoli Blueberry Vodka, Hpnotiq, Lemon Juice, Club Soda
Vodka, Dry Vermouth, Juice
Classic
Pineapple
Raspberry
Vodka, Chambord, Lime Juice, Simple Syrup, Cranberry Juice
Gin, Lemon Juice, St. Germain, Simple Syrup
Gin, Triple Sec, Lemon Juice, Syrup
White Rum, Maraschino Liqueur, Lime Juice, Grapefruit Juice
Classic
Hibiscus
Lavender
Lychee
Mango
White Rum, Lime, Mint, Sprite
Tequila, Grapefruit Juice, Champagne
Classic
Blackberry
Passionfruit
Tequila, Triple Sec, Lime Juice, Chambord
Bourbon, Sweet Vermouth, Triple Sec, Angostura Aromatic Bitters, Laphroaig Expression
Bourbon, Angostura Aromatic Bitters, Angostura Orange
Vodka, Orange Juice, Champagne OR Truly Blackberry
Champagne, Sliced Peaches
Hours of Operation
Sun - Wed : 5 PM - 2 AM
Thursday : 5 PM - 3 AM
Fri & Sat : 5 PM - 4 AM
Address
32 W 32nd St, Floor 3
New York, NY 10001-3859